The Verticus range of Bauer breathing air compressors are known for their durability and high performance in demanding continuous operations.
The modular arrangement of the Verticus range allows a customer-tailored compressor unit according to individual requirements and provides a simple upgrading such as larger or additional filter housings, Securus filter monitoring, external filling panels, storage systems and others.
The custom tailored concept for a safe breathing air supply for big diving centres. High capacities and the legendary reliability of Bauer provides a safe and rapid breathing air supply round the clock.
The sophisticated noise abating cabinet assures super silent operation (Verticus range).  The patented P-purification system provides the supply of compressed breathing air according to EN 12021 breathing air standard.
Verticus V5 B-Control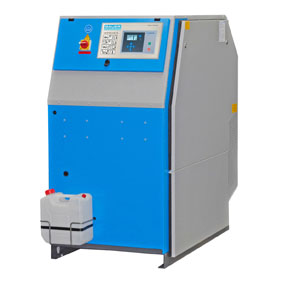 For use in particularly noise-sensitive environment.
Super silent operation with less than 68 dB(A)* due to high absorbent special insulation materials in and efficient noise reducing construction of the "super silent" cabinet.
Comfortable monitoring of all compressor performances via B-Control. The new optional B-Messenger offers remote monitoring and control.
Due to the vertical housing design the block is easily accessible for maintenance work.
The efficient P61 purification system provides purest breathing air according to DIN EN 12021.

*(+/- 2 dB(A), measured at the distance of 1 metre)
1 Also available with switch over device PN 200/300
2 Cylinder filling from 0 to 200 bar
3 Filling rate for 1l cylinder capacity from 0 to 200 bar
4 Also available as 420 bar version
5 Option
Verticus 5-range

 
 
 
 
 
 

Max. 330 bar1

Model

V12.14-5.5-54

V12.14-7.5-54

V15.1-7.5-5

V15.1-11-5

V150-11-5

V180-15-5

No. of stages

4

4

4

4

4

4

FAD l/min1

260

320

370

450

540

680

RPM min-1

1185

1470

1050

1320

1230

1400

Filling rate min2

0,8

0,6

0,5

0,4

0,4

0,3

Drive kW

5,5

7,5

7,5

11
11
15

Drive HP

7,5
10
10
15 
15 
20 

P-Range

P61 or P815
P61 or P815
P61 or P815
P61 or P815
P61 or P815
P61 or P815

Dimensions

L x W x H (approx. cm)

114 x 83 x 152

114 x 83 x 152

114 x 83 x 152

114 x 83 x 152

114 x 83 x 152

114 x 83 x 152

Order code

V12.14-5.5-54

V12.14-7.5-54

V15.1-7.5-5

V15.1-11-5

V150-11-5

V180-15-5
Item
Order Code

Verticus 5-range

V12.14-5.5-5

V12.14-5.5-5

V12.14-7.5-5

V12.14-7.5-5

V15.1-7.5-5

V15.1-7.5-5

V15.1-11-5

V15.1-11-5

V150-11-5

V150-11-5

V180-15-5

V180-15-5
| | | |
| --- | --- | --- |
| Type | Document | Download |
| Datasheet | Bauer Verticus range compressor | |