Hyperlite hyperbaric stretcher
The SOS Hyperlite hyperbaric stretcher is truly an innovative piece of equipment that can be quickly and easily deployed.
Like a hyperbaric chamber it provides 100% oxygen on demand through a BIBS mask or hood when pressurised with air, and is suitable for use anywhere from diving sites, remote locations, war zones, medical centres and 'on the move' in aircraft, helicopters, boats, submarines, ambulances or other road vehicles.
The overriding advantage of the hyperlite is its lightness, ability to fold and versatility; a very significant benefit where inaccessibility, inclement conditions and/or other dangers may be present at an accident site. Treatment starts right there, with final resolution likely to be some way away, where specialist hands-on medical support is available.
Hyperlite hyperbaric stretcher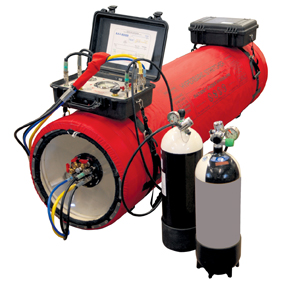 General

Model number

23/88/SOSH/75

Length

88.5" / 224.5cm

Diameter

23.5" / 59.5cm

Window thickness

1.0" / 2.54cm

Bladder thickness

0.05" / 1.2mm

Pressure vessel weight

110 lb / 50 kg

Pressure vessel volume

20 cubic ft / 570 litres

Max. allowable working pressure

75 fsw - 33.5 psig / 23 msw - 2.3 barg

Production test pressure

111 fsw - 50 psig / 34.5 msw - 3.45 barg

Prototype test pressure achieved

453 fsw - 201 psig / 138 msw - 13.8 barg

Gauges - bourdon dual scale absolute

0 - 90 fsw / 0 - 30 msw

Main case (1)

Dimensions

27 x 27 x 25" (68 x 68 x 64cms)

Weight

152lb (69kg)

Control case (2)

Dimensions

19 x 14 x 7" (47 x 36 x 18cms)

Weight

25lb (12kg)

Anc. parts case (3)

Dimensions

19 x 14 x 7" (47 x 36 x 18cms)

Weight

14lb (6kg)
| | |
| --- | --- |
| Item | Order code |
| SOS hyperlite hyperbaric stretcher | DC060 |
| | | |
| --- | --- | --- |
| Document | Document type | Download |
| Hyperlite hyperbaric stretcher | Datasheet | |