Case study: Akademik Tofiq Ismayilov (ATI)
Release date: 28/07/2022
Akademik Tofiq Ismayilov (ATI) Saturation Diving Vessel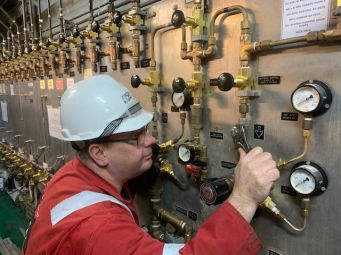 | | |
| --- | --- |
| Client | Completed |
| SUBSEA 7  | 2021 |

THE PROJECT
From early 2020 to Q3 2021, JFD was pleased to be able to support SUBSEA 7 with reactivating the Dive System on the Akademik Tofiq Ismayilov (ATI) to enable the vessel to be utilised by a major IOGP client in the Caspian Sea region. As the vessel had not performed as a Saturation Diving Vessel for an extended period, as well as having mature systems and equipment on board, it was recognised that there were some significant upgrades required. Due to JFD's knowledge of the system, experience in Dive System upgrades, engineering and technical expertise, and tailored product range, SUBSEA 7 enlisted our services to support several aspects of the project.


FMECA RECOMMENDATIONS
Following the delivery of the FMECA report, SUBSEA 7 engaged JFD to provide a further report outlining proposed solutions and costs against rectifying all the Category A listed recommendations. JFD engineers, technicians, dive technical advisors and product sales personnel worked together to produce the report and quotes to rectify each of the issues.
The proposed solution was a mixture between replacement parts/products, engineering solutions and onsite technical solutions. Due to JFD's large range of product and service offerings, as well as the in-house Dive System technical expertise, we were able to provide solutions for each of the recommendations.


SUMMARY
From the beginning of the project in early 2020 to the completion in Q3 2021, JFD was able to work closely with SUBSEA 7 and their local partners, Caspian Marine Services and BP, to support in getting the vessel Dive System back to a high standard, enabling safe and efficient return to Saturation Diving operations. JFD's proven track record, varied range of products and services and extensive experience in supporting Saturation System builds and refurbishments, led to SUBSEA 7 entrusting JFD to support throughout this project.
Despite the many challenges faced in providing equipment and personnel to support the system upgrade during the COVID-19 pandemic, JFD was able to successfully deliver on all scopes, on time and within budget.


CLIENT TESTIMONY
"The reactivation of a 33-year-old dive system in a remote location under C19 was a huge challenge, technically, commercially and logistically. Long established relationships between Subsea 7 and JFD and a mutual understanding of each other's needs allowed us to safely and successfully return the dive system to commercial diving operations to a high standard. JFD understood our needs and proved responsive, even out of hours for emergent issues. We could not have met all the regulatory requirements without their support. We look forward to completing the FMECA update."


Michael Campbell
Vessel Superintendent