Portable hyperbaric rescue facility
Our IMCA compliant 18-man Portable Hyperbaric Reception Facility (HRF) can support diving operations across the whole of the North Sea.

Suitable for accommodating divers evacuated from a diving system by means of a Self Propelled Hyperbaric Lifeboat (SPHL) or Hyperbaric Rescue Chamber (HRC), this Portable HRF provides a practical hyperbaric rescue solution for operators working in remote locations.
The HRF was designed and manufactured by JFD. DDC1 (12.17m (L)) is a twin lock skid mounted and enclosed saturation living chamber consisting of the main lock (ML) and entry lock (EL). DDC1 has a depth capacity of 300m and allows habitation for up to 18 rescued divers during decompression and a medical attendant if required.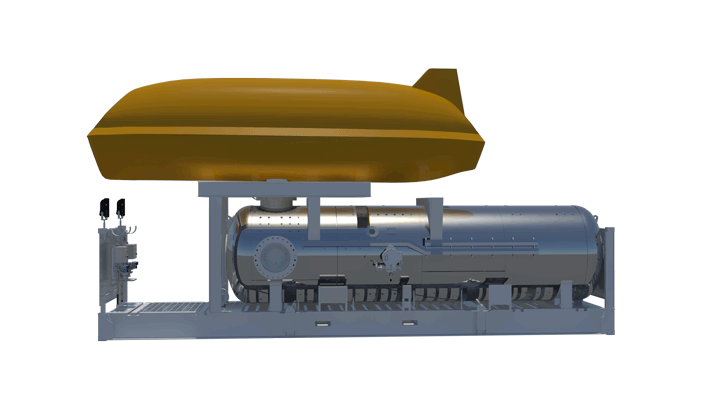 | | | | | | | | |
| --- | --- | --- | --- | --- | --- | --- | --- |
|   |   |   |  Bottom mate SPHL |  Side mate HRC |   |   |   |
| | | | | | | | |
The HRF system is designed to be mated to a bottom or side-mated SPHL, or a side-mated HRC.  
JFD  hold Lloyds approved forgings and plate in stock to allow suitable spool pieces and clamps to be rapidly fabricated to suit clients particular hyperbaric evacuation chambers.
Chamber designed under PD5500 pressure vessel design code, and manufactured under full Lloyds survey

Viewports designed and certified toASME PVHO-1-2007

Full Lloyds design review and manufacture certification to Lloyds Rules for Submersibles and Diving Systems July 2016

Compliant to IMCA D024 Design for Saturation Diving Systems (Bell) July 2014 (where appropriate)

Compliant to IMCA D053 Design for the hyperbaric reception facility (HRF) forming part of a hyperbaric evacuation system (HES) April 2014

Full system certification and manual package

All electrical wiring to Australian Standards
Weight:
40ft flat rack with DDC: 32te
Control Cab Container: 12te
Transportability
The control container is a DNV 2.7-1 offshore rated container. The chamber is mounted in a 40ft modified ISO flatrack for ease of transportation.
The scope of supply includes:
HRF Chamber and flatrack skid fully outfitted

HRF Control van complete

Interconnecting hoses and cables

Certification and manual package
The scope of supply excludes:
Manufacture of spoolpieces and clamps to suit client

Hyperbaric Evacuation Chamber / SPHL

Manufacture of reception skid if required to suit client  

Hyperbaric Evacuation Chamber / SPHL
| | | |
| --- | --- | --- |
| Type | Document | Download |
| Flyer |  Portable HRF | |