Self propelled hyperbaric lifeboats
JFD manufactures a range of Self Propelled Hyperbaric Lifeboats (SPHLs) which combine proven, high quality internal chambers and life support equipment with specialist hull construction.
Designed to provide the highest level of safety and performance during an emergency evacuation, JFD SPHLs can be supplied compliant with NORSOK, ABS, DNV, IMCA and Lloyds Register based on customer specification.
JFD SPHLs are engineered to 12, 18 and 24-man configurations rated up to 500m.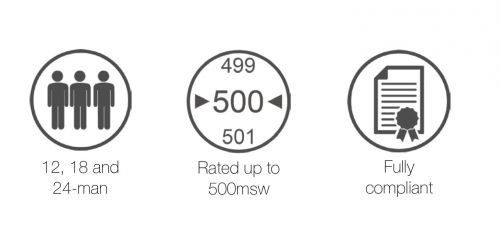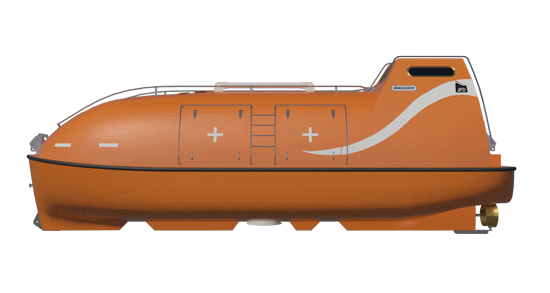 | | | | | | | |
| --- | --- | --- | --- | --- | --- | --- |
| SPHL | SPHL |  Chamber interior |  Chamber |  Gauges |  Testing of hull |  DAVIT System |
| | | | | | | |
Requirement
Saturation Diving Vessels require a rescue contingency for their divers in the form of a hyperbaric lifeboat (HLB).
In the event of an emergency evacuation, hyperbaric lifeboats accommodate saturation divers for up to 72 hours using on-board life support during which time the vessel is transported to a facility where the divers can be safely decompressed.
Capability
JFD has supplied over 135 integrated and modular saturation diving systems, with associated SPHLs, to clients around the world for the past 40 years which includes some of the most advanced systems in existence.
Broad offering
JFD legacy companies each have specialist heritage in the provision of products and services for saturation diving systems. JFD combines these areas of expertise allowing us to support any client requirement, from manufacture through to maintenance and operation.
Flexibility
JFD prides itself on its flexibility, robust designs and advanced engineering. This allows us to work alongside our clients in order to engineer a practical, efficient and cost effective solution which suits all requirements and specifications.
Quality
JFD equipment is renowned for its innovation, operational advantages and quality which greatly enhance functionality and performance.
Since 1987, Vanguarde has been dedicated to the manufacture and supply of trusted and reliable lifeboats and has developed a range of high quality vessels which are at the forefront of life saving innovation and technology.
Extensive testing is carried out on all JFD products ensuring quality and reliability as well as compliance with the latest industry standards. JFD SPHLs undergo speed, overload, self-righting, drop and impact tests as well as the necessary pressure and hyperbaric testing requirements.
Aftercare
We provide full servicing and maintenance support packages on all our equipment. Our experienced technicians are fullly qualified to the latest offshore standards.
JFD has bases around the world allowing us to offer customers a reliable global support capability.



Offering
Through a recent joint venture alongside Vanguarde, JFD has increased its capability and is now able to deliver a new generation of hyperbaric lifeboats.
The new range combines JFD's proven hyperbaric and chamber design with specialist hull design from Vanguarde, creating a range of vessels which greatly improve the chances of a successful, safe recovery and decompression of the divers.
Standard configurations include 12, 18 and 24-man SPHLs which can be rated up to 500msw.
SPHLs can be built to comply with DNV, ABS, IMCA and Lloyd's Register and are subject to vigorous tests and trials as required in order to satisfy the latest industry requirements.
 
12-man
18-man
24-man
Model Number
VG9.50HLB / HLB156 Series
VG10.50HLB / HLB150 Series
VG13.00HLB / HLB152 Series
Manufacturer
JFD
Classification Society
Det Norske Veritas (DNV), Lloyd's Register, ABS, BV
Compliant With
IMO, SOLAS, LSA
Design Code
PD5500 for Pressure Vessels
Design Temperature
-40°C / +55°C
Chamber Diameter
1750mm (internal)
Working Pressure
20bar - 50bar
Max Operating Depth
200msw - 500msw
Life Support Duration
Designed to exceed minimum life support requirements of 72 hours
Weight Chamber
3500kgs - 10500kgs
Supplier Hull/Canopy
Vanguarde Pte Ltd
Material Hull/Canopy
Fire retardant glass fibre reinforced polyester
Dimensions (L x W x H) including handrail, antenna and other fixtures
9.8m x 3.6m x 4.1m
10.8m x 3.6m x 4.1m
13.3m x 3.6m x 4.1m
Release Hook
10Te - 16Te safe launch area
Hook Distance
8.70m
9.70m
12.20m
Total Davit Load
18,000kg to 30,000kg
Maximum Capacity
12 divers / 4 crew
18 divers / 4 crew
24 divers / 4 crew
Communication System
JFD
Colour
Safety Orange
Propulsion Systems
Engine make / main propeller / bow thrusters
Davit Systems
JFD can supply davit systems which are purpose built for handling payloads in high sea states and hazardous conditions.
SPHL davits are typically mounted on the ship's side structure and use a 'dead-ship' stored energy system for autonomous deployment.
| | | |
| --- | --- | --- |
| Type | Document | Download |
| Brochure | SPHLs (Self Propelled Hyperbaric Lifeboats) | |