Release date: 16 May 2022
Experience CNE 2022 with JFD 
JFD is thrilled be attending the 2022 Combined Naval Event (CNE) at the Farnborough Exhibition Centre, from 24 – 26 May. 
Defence Leaders have combined their three flagship naval events, Underwater Defence & Security, Future Surface Fleet and Submarine Technology, into what promises to be one of the key naval meetings in Europe.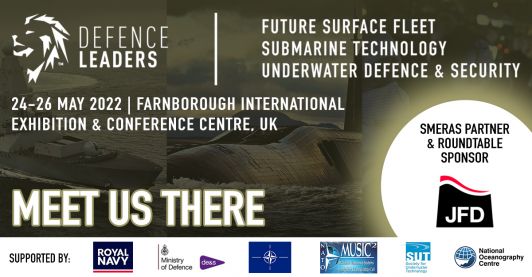 JFD is delighted to announce that as well as participating as an exhibitor, we are also the SMERAS Partner.
On Wednesday 25 May, at 9.30am, we'll be presenting 'Capability and requirements of Rescue MOSHIPs and VOOs to host Submarine Rescue Systems in the time of need', where we will be delving into the following topics: 


The likely scenario and the mobilisation process onto a vessel

Specification and requirements of the vessel

The challenges faced by vessels hosting a Submarine Rescue System


You'll also find team JFD at Stand 54, where we will be showcasing our full range of offerings, from submarine rescue capabilities to special operations tactical diving vehicles and rebreathers. If you'd like to book a meeting in advance, email jfdevents@jfdglobal.com and we'll be happy to discuss your current and future requirements.