Release date: 13 June 2018
JFD presents complete defence offering at UDT 2018 in Glasgow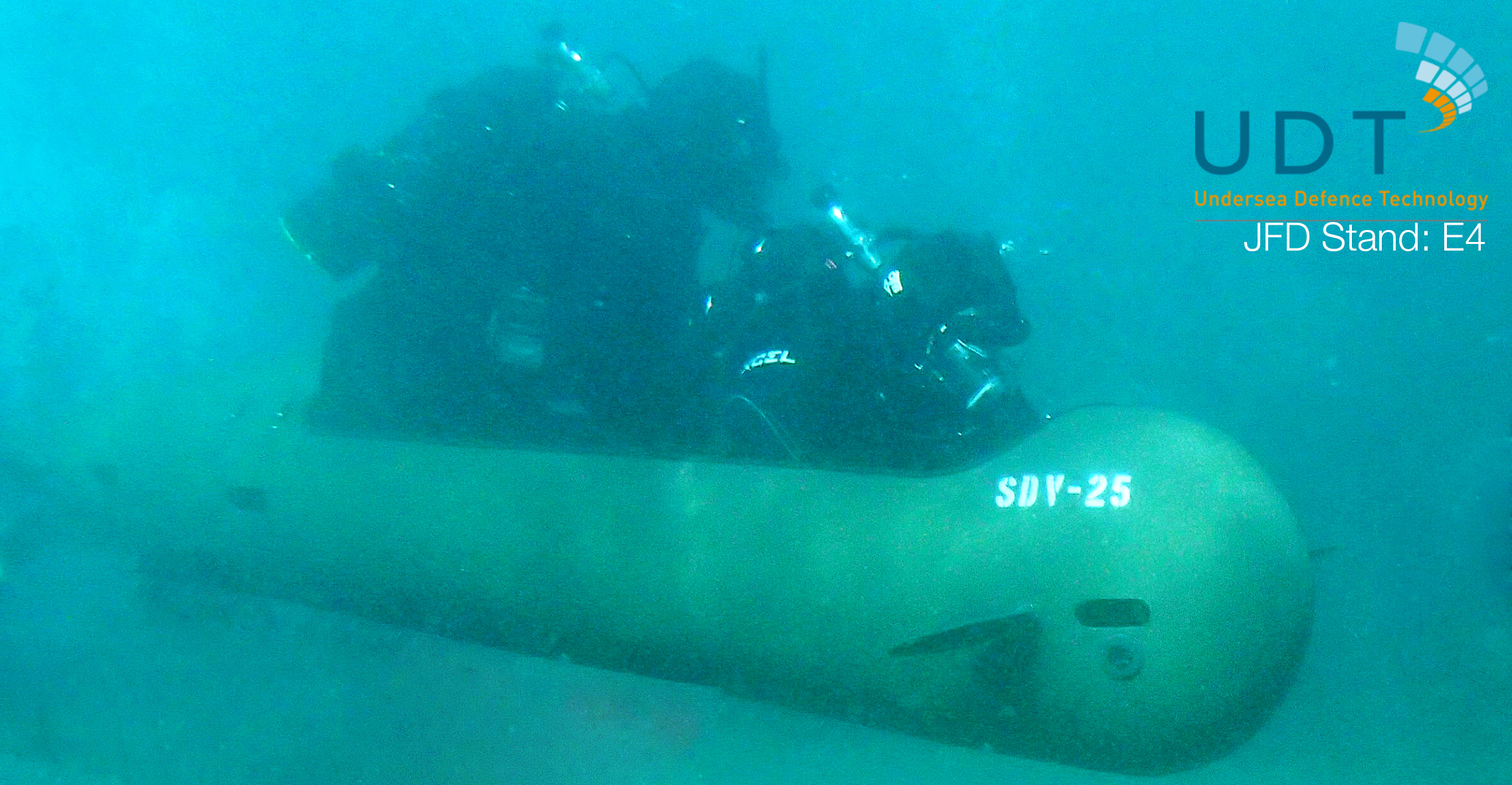 JFD, the world leading underwater capability provider serving the commercial and defence markets and part of James Fisher and Sons plc, has announced details of the company's presence at this year's Undersea Defence Technology (UDT) conference, taking place between June 26th and 28th in Glasgow.
A unit of the company's Torpedo SEAL stealth combat swimmer delivery vehicle (SDV) will be on display at the stand, accompanied by a Stealth Clearance Diver's Life Support Equipment (CDLSE) rebreather apparatus.
The Torpedo SEAL, a two-man SDV, is designed to extend the operating range of a combat team and allow underwater survey and reconnaissance, the delivery of explosive ordnance, or create the capability for sub-surface counter-narcotics and harbour patrol operations. Torpedo SEAL transits can transport two divers and equipment, fully submerged, over a range of 10nm. The specially designed SDV can be easily stowed within the multi-purpose tubes being integrated into future submarine designs, or beneath the outer casing of the submarine.
Meanwhile, the company's Stealth CDLSE underwater breathing apparatus will also be on display. Considered to be the benchmark in "state of the art" mine countermeasures explosive ordnance disposal (MCM EOD) underwater life support technology, Stealth CDLSE offers increased levels of diver safety, equipment reliability, maintainability, operational capability and mission versatility.
Over the three day event JFD's experts will also be on hand to discuss the company's full suite of defence products on stand No. E4. JFD provides a comprehensive range of products, services and solutions to markets including submarine rescue, special forces, law enforcement, counter-terrorism, maritime protection and mine countermeasures. This offering is grounded in more than three decades of safely delivering defence diving products, systems and services to navies worldwide.
JFD will also be holding exclusive open evenings at their Inchinnan office to view the latest Third Generation Submarine Rescue System build.  To find out more information please contact: JFDevents@jfdglobal.com
To arrange a meeting with one of the team at UDT, please email JFDevents@jfdglobal.com
To find out more information about JFD and its work across the defence, hyperbaric and commercial diving markets, please visit www.jfdglobal.com.