Release date:16 September 2022
Join JFD at GSOF Symposium Europe this October
JFD is looking forward to attending GSOF Symposium Europe in Budapest, Hungary, from 4-6 October
Launched in 2016 by the Global SOF (GSOF) Foundation, GSOF Symposium Europe is an annual symposium and exhibition that gives the Special Operations Forces (SOF) audience a platform to network, discuss topical developments and explore business opportunities.
The GSOF Foundation is a non-profit organisation that aims to build and grow a network of stakeholders worldwide, working together to advance SOF capabilities and partnerships. JFD is proud to not only be a corporate partner of GSOF, but to also be the lead sponsor of the new GSOF Maritime Capability Group, where we will be sharing our 40 years of underwater expertise.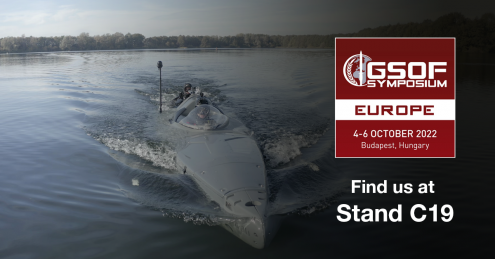 Find JFD on Stand C19, where our experts will be on hand to talk you through our extensive range of products, services and solutions for the SOF market, including our Tactical Diving Vehicle (TDV), the Shadow Seal. Shadow Seal is a unique TDV design that enables the discrete and covert transportation of four operators and equipment on the surface, semi-submerged or fully submerged. 



For those interested in TDVs and maritime transportation, you'll be able to hear from JFD North America's Jim Emmert, Capability Development - Applications & Requirements. 
Jim will be presenting 'Tactical Diving, The Future Direction of Travel' at 14:00-14:30 on Wednesday 5th October at the DisTec Theatre. Read the full presentation synopsis here. 
For more information, or if you'd like to arrange a meeting in advance with any of the team, please email jfdevent@jfdglobal.com
JFD's 40 years of underwater experience provides the Global SOF Community with unparalleled experience and capability