Aquabeam DHL-4 helmet light

The Aquabeam DHL-4 is a tough, compact and cost effective helmet light ideal for the inshore diver.
Operating with 12 volt reflector lamps with power outputs of 12, 20 or 35 watts the DHL-4 is rated to a maximum depth of 300 metres.
By using either the 'stay-put' friction bracket or the universal mount bracket, the DHL-4 will interface with most modern helmet faceplates including the Kirby Morgan range of helmets and masks.
The DHL-4 is supplied without lamp, with fixed universal mounting bracket and with either 2 or 4 pin connector.
Aquabeam DHL-4 helmet light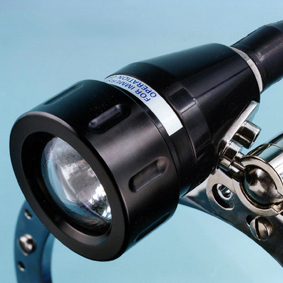 Materials

Materials

Black acrylic; aluminium HE30 (hard anodised); borosilicate glass; stainless steel 316; synthetic rubber (neoprene); ceramic.
Note: DHL-3P bezel is manufactured from acrylic and that of DHL-4 from aluminium.

Electrical

Supply voltage

12Vdc

Current consumption

1.6A (20W), 2.9A (35W)

Typical luminous flux

250lm

Typical colour temperature

3000K

Lamp life

2000 hours

Dimensions

Max diameter

60 mm (2.36')

Length

89 mm (3.5') excluding cable penetrator

Dry weight

400 grams (0.88 lb)

General test pressure

General test pressure

30 bar (450 psi)

Connectors

Connector

Penetrator with short cable, terminating in ARMG-2-MP or ARMG-4-MP, with high impact, polystyrene locking sleeve (alternative connectors and or longer cable, fitted to order).

Lamps

Lamps

12 volt, 35 mm reflector lamps at 20 and 35 watts (max)

Stay-put helmet bracket type FB01

Materials

Stainless steel 316 and nickel plated brass

Dry weight

200 grams (O.44 lb)
| | | | | |
| --- | --- | --- | --- | --- |
| Volts | Watts | Average beam angle (immersed) | Code | Order Code |
| 12 | 20 | 5.5o | M64 (FTA) | LA206 |
| 12 | 20 | 7.5o | M52 (FTB) | LA207 |
| 12 | 20 | 13o | M51 (FTC) | LA208 |
| 12 | 20 | 22.5o | M62 (FTD) | LA209 |
| 12 | 35 | 6o | M65 (FTE) | LA210 |
| 12 | 35 | 15o | M66 (FTF) | LA211 |
| | |
| --- | --- |
| Item | Order code |
| Aquabeam DHL-4 c/w 2 pin male connector | LA157AC |
| 'Stay-Put' friction bracket | LA155 |
| Aquabeam universal helmet bracket | LA156 |
| | | |
| --- | --- | --- |
| Type | Document | Download |
| Datasheet | Aquabeam DHL-4 helmet light | |
| Drawing | Aquabeam DHL-4 helmet light assembly | |
| Drawing | Aquabeam DHL-4 helmet light mounting bracket | |