The Divex 2 channel diver radio has been designed to provide communications between the diving chamber supervisor and chamber occupants.
Typically used on a twin lock air chamber the chamber radio provides a reliable and excellent audio quality link between chamber and surface. It is manufactured into a 19" half sub-rack for installation into the smallest of spaces and with the same audio quality as the Divex range of HeliCom™ unscramblers, it is one of the best chamber radios the market has to offer.
The chamber radio supports 2 channels which are typically main lock and entry lock. Each lock is installed with a chamber communications box and speaker which connects to the rear of the chamber radio.
The supervisor can choose between using the panel microphone and speaker or headset by means of a push button switch. Communications from the chamber takes priority and is open for the supervisor to hear, the supervisor uses the panel press to talk (PTT) or headset PTT to communicate with the chamber occupants.
Individual volume controls are available for both chamber locks and the supervisor and a selector switch allows the choice of communication with either lock individually or both at the same time.
2 channel diver radio communications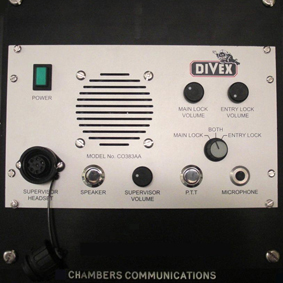 Specifications

General

Operating voltage

85-264 Vac 47-63 Hz

Rated power input

30 watts

Power output

10 watts per channel: one power amplifier per channel (4 ohm load)

Frequency response

300 Hz to 12 kHz

Input impedance

150 ohms, transformer isolated

Audio recording

Line level output

Auxiliary input

Line level input (diver selected via diver select switch)

Connectors 

Divers

7 way socket (comms cable CO383304)

Supervisor headset

7 way plug (headset CO643)

Recording output

Phono socket

Auxiliary input

Phono socket

Dimensions

Height

128 mm

Width

213 mm

Depth

228 mm

Environmental

Operating and storage temperature

0~40oC
Housed in a standard 19" half rack which is 3U high
Simple installation with only 2 signal cables and a power cable
Standard IEC power inlet for main power supply
Auto ranging power supply with input range of 85Vac to 264Vac which enables the use of 110Vac and 230Vac as supplied on most dive sites/vessels
Selector switch for choosing individual lock or both locks
Individual volume controls allows better control for the supervisor
Headset or panel mic/speaker
Noise cancelling headset with boom mic supplied as standard
| | |
| --- | --- |
| Item | Order Code |
| 2 channel diver radio communications | CO383AA |
Document
Document Type
Download

Datasheets

2 channel diver radio communications
Datasheet

Drawings

2 channel chamber phone
Drawing