Shadow / Shadow Excursion rebreathers
Shadow Excursion is used for diving operations beyond the safe depth of oxygen. Shadow/F may also be quickly upgraded to Shadow Excursion using an upgrade package which enables the UBA to perform as a semi-closed circuit nitrox UBA, or as a combined oxygen/nitrox UBA.
Shadow Excursion is a five-minute in-field upgrade that requires no tooling or additional equipment. Nitrox is similarly supplied from either a 200 or 300 bar cyclinder via an automatic demand valve and manual bypass facility.
Shadow Excursion has excellent breathing performance augmented by the use of external counterlungs, which are positioned on the diver's upper chest providing a streamlined swimming configuration and comfortable breathing in all diver positions. Shadow Excursion may be used with a bite mouthpiece or an optional full facemask.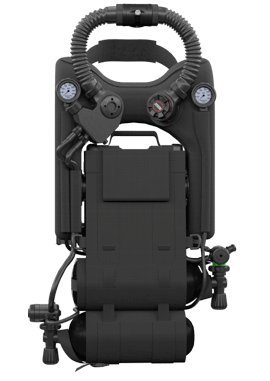 | | |
| --- | --- |
| Shadow Excursion | Shadow Excursion |
| | |
The unique multi mission capability of Shadow offers reduced through-life costs and logistical advantages that include:
A common platform reduces costs associated with training divers to use multiple UBA
Common spares reduces the spares inventory
Common documentation/ manuals
Reduced maintenance
Fully user serviceable
Shadow Excursion can be tailored to suit specific mission requirements via the use of the following
accessories:
Transport case
Full Face Dual Mode Mask
Bite mouthpiece and half mask
Buoyancy Compensation Jacket
Digicom through-water communications
Dry suit inflation system
Diver tool and test kit
Maintenance tool and test kit
300 bar 2 litre non-magnetic composite cylinders
300 bar 3 litre low magnetic composite cylinders
Spares package to suit customer requirements
| | | |
| --- | --- | --- |
| Type | Document | Download |
| Datasheet | Shadow Excursion rebreather | |