Shadow Enforcer rebreather
Shadow Enforcer is a lightweight, easily maintainable and rapidly deployable underwater breathing apparatus (UBA).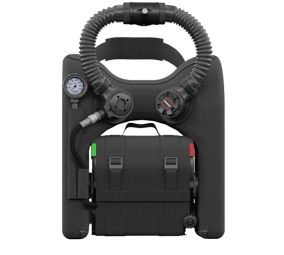 A variant of the highly successful range of Shadow underwater breathing apparatus (UBA), the Shadow Enforcer rebreather has been designed to meet the evolving needs of special operations divers and maritime law enforcement.
As a closed circuit oxygen rebreather, Shadow Enforcer is ideally suited for shallow water insertion dive's,  ships' hull inspection activities, improvised explosive device searches, crime scene investigation and for lock in, lock out submarine swimmer delivery operations to 6 meters.
The use of pre-packaged ExtendAir® cartridges ensures consistent CO2 scrubbing performance and reduces the requirement for divers to pack granules manually. They also provide the lowest work of breathing possible from a canister, thereby reducing diver fatigue. 
| | | | | |
| --- | --- | --- | --- | --- |
| Shadow Enforcer | Shadow Enforcer | Shadow Enforcer | Shadow Enforcer | Shadow Enforcer |
| | | | | |
The unique multi-mission capability of Shadow Enforcer offers operational and logistic advantages that include:
Small, lightweight package easily transported, stowed and prepared for use in confined spaces
120 mins CO2 canister duration at 40RMV (1.6 l/min CO2 injection) in 4OC (39oF) water
Extremely low work of breathing
Increased duration up to 180 mins in warm water
Upgradable to a nitrox or combined oxygen/nitrox UBA enabling diving to 24m (80ft)
Common components with other Shadow UBA
Easy use ExtendAir® CO2 absorbent cartridge offers improved diver safety
Rapid and simple pre/post dive procedures
Rugged design based upon field proven technology that is in-service worldwide
Simple maintenance procedures
Fully user serviceable, no return to factory required
ExtendAir® CO2 absorbent canister has been developed for use in military rebreathers and has been extensively tested by independent authorities such as the US Navy Experimental Diving Unit (NEDU) and the UK Test House QinetiQ. The unique ExtendAir® absorbent technology and performance is a combination of a microporous gas absorbent sheet and canister design geometry. The absorbent material is manufactured with a proprietary process using the proven chemistry of sodium hydroxide granular based absorbent material that is in use worldwide.
The main advantages of the cartridge technology are:
Single use packaging (no user packing variability and greater duration consistency)
No CO2 absorbent material channeling and early CO2 break through from settling
Water tolerant; the hazard of a caustic cocktail is significantly reduced
A flooded breathing loop is recoverable allowing the mission to be safely aborted under control
Lack of dust compared to granules (allows canister packing aboard submarines)
Lowest canister work of breathing possible
Excellent shock and vibration resistance (no dust generation as a result of transportation vibration)
Transport case
Dual mode bite mouthpiece
Buoyancy compensation jacket with oral inflation and direct HP or LP inflation systems
Nitrox up-grade kit (various nitrox cylinder size options available from 1 litre to 3 litres)
Emergency open circuit bailout system (various cylinder size/pressure options available)
Divex Digicom Diver Through Water Communications System
Traditional granular scrubber canister
Dry suit inflation system
Diver tool and test Kit
Depot level maintenance
Spares package to suit customer requirements
| | | |
| --- | --- | --- |
| Type | Document | Download |
| Datasheet | Shadow Enforcer rebreather | |
| Flyer | Shadow Enforcer rebreather | |