Stealth SC is the ideal, cost effective apparatus for a range of specialist diving operations where simplicity, ease of use and durability are a necessity.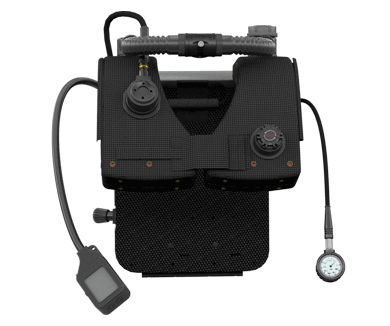 A mixed gas, underwater breathing apparatus (UBA) from JFD's operationally proven Divex range of defence rebreathers, the Stealth SC is ideally suited for mine countermeasures and explosive ordnance disposal operations at depths of up to 54 metres.
The Stealth SC is a back-worn unit, with gas provided by a twin, two litre cylinder assembly via an adjustable constant mass flow metering valve. The valve also provides manual gas bypass function whilst a demand valve automatically controls the volume of gas in the counter lungs during decent.
The external breathing system (XBS) has been designed for use with Stealth SC to provide an alternative source of breathing gas in the event of an emergency situation during decompression diving operations or a supply of oxygen for in-water oxygen decompression stops. The XBS is used in a similar manner as a "lazy shot" and provides a diver station during decompression.
| | | | |
| --- | --- | --- | --- |
| Stealth SC | Stealth SC | Stealth SC | Stealth SC |
| | | | |
60m using trimix or heliox gases
54m using standard NATO nitrox gases
Brief excursions to a maximum depth of 6 msw on 100% O2 with short duration excursions to 15 msw (dependent upon local oxygen exposure regulations)
Breathing performance to UK HSE / EN standards
Operating temperature -20ºC to +49ºC
Sea temperature operation -1ºC to 37ºC
Freshwater temperature operation 1ºC to 37ºC
Non magnetic to NATO STANAG 2897 A / AEODP-7
Low acoustic
Integrated oxygen partial pressure (PO2) monitor and decompression computer
| | |
| --- | --- |
|   |   |
| Weight | 15 kgs (basic unit – dependent upon customer configuration) |
| Dimensions | 500 x 365 x 150mm (basic unit – dependent upon customer configuration) |
| Scrubber capacity | 3.5 kgs (Molecular Products Sofnolime® 797 grade 812 mesh) |
| Working pressure | 300 bar |
Stealth SC is a modular, underwater life support system that can be tailored to suit mission requirements by using a combination of the following accessories:
Buoyancy compensation device with integral weight pockets
Bite mouthpiece and half mask
Open circuit bailout options for both bite mouthpiece and dual mode mask
Optional separate low magnetic external breathing system (XBS)
Full face dual mode mask, permitting breathing from closed and open circuit gas supplies such as XBS or special operations manned wet submersible built-in breathing system (BIBS)
Dual mode bite mouthpiece
| | | |
| --- | --- | --- |
| Type | Document | Download |
| Flyer | Stealth SC rebreather | |