MCM-EOD closed circuit mixed gas underwater breathing apparatus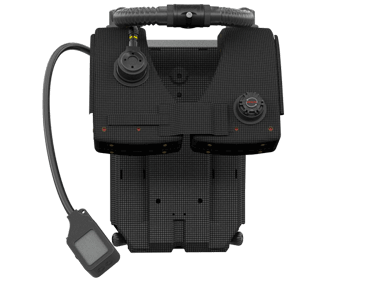 With over 600 sets operational globally, Stealth CDLSE (Clearance Diver's Life Support Equipment) is one of the most popular MCM-EOD rebreathers in service.
Stealth CDLSE is available in two variants: CDLSE and CDLSE Extended Duration.
Used primarily for MCM-EOD operations, Stealth CDLSE features new and improved O2 sensors along with an option of cylinders from 15 years to non-lifed.
CDLSE includes an extended duration scrubber thereby providing a dive time of 6-8 hours.
| | | | | | | |
| --- | --- | --- | --- | --- | --- | --- |
| Stealth CDLSE | Stealth CDLSE | Stealth CDLSE | Stealth CDLSE | Stealth CDLSE | Stealth CDLSE | Stealth CDLSE |
| | | | | | | |
The system boasts a proven track record in a range of operational and environmental conditions.
With competitive evaluations conducted by independent government defence agencies and end user organisations, Stealth CDLSE is in service with a number of prominent navies.
With over 600 sets operational globally, Stealth CDLSE is one of the most popular MCM-EOD rebreathers in service.
100msw using Heliox or Trimix as a diluent gas
40msw using Air, Heliox or Trimix as a diluent gas

15msw "no decompression depth" (using Air as the diluent gas)

3-5 hour maximum dive time standard canister

6-8 hour maximum dive time with extended duration canister

Storage temperature -30°C to +70°C

Air temperature operation -20°C to +50°C

Sea temperature operation -2°C to +38°C

Fresh water temperature operation +1°C to +38°C

Non-magnetic to NATO STANAG 2897 A / AEODP-7

Low noise to NATO STANAG 1158 / AMP 15

Shock and vibration tested to relevant defence standards

Environmentally tested to relevant defence standards
300 bar safe working pressure non- magnetic class A composite cylinders
| | |
| --- | --- |
| Weight and dimensions | Standard Stealth CDLSE |
| Height | 587mm |
| Width | 375mm |
| Depth | 170mm |
| Weight | 19kg |
Non-magnetic and low acoustic design
The requirement to meet NATO AEODP-7 Class A (STANAG 2897) without compromise is an operational necessity. Stealth CDLSE fully meets the requirements of AEODP-7 Class A (STANAG 2897) under both static and dynamic test conditions in all attitudes and for all components that may come into contact with magnetically sensitive ordnance.
Sea mines continue to increase in sophistication; in response Stealth CDLSE surpasses the low acoustic test requirements of NATO STANAG AMP15. Stealth CDLSE functions by analysing the breathing gas and through the automatic addition of 100% Oxygen, the Partial Pressure of Oxygen (PO2) is accurately maintained at a pre-set level dependent upon the depth.
Using three independent oxygen sensors, CDLSE's control system rapidly and accurately responds to changes in life support system status.
A Diluent gas (Air, Heliox or Trimix) provides gas volume within the closed-circuit primary breathing system, whilst Carbon Dioxide (CO2) from exhaled gas is absorbed by the scrubber unit.
System features
Fully closed-circuit mixed gas electronically controlled constant oxygen partial pressure
Front mounted counterlungs for minimal breathing resistance
Downloadable dive log providing a detailed record of the dive
Rechargeable main and reserve battery - long life
Sealed electronics unit
Water tolerant breathing circuit and water dump systems
Oxygen sensors and circuits protected from moisture and water entry
Composite 300 bar cylinders
Backlit LCD hand display showing essential dive data
High pressure DIN fittings
Three independent oxygen sensors
Automatic "bad sensor" removal and advanced oxygen sensor voting logic
Various bailout options available
Operational versatility
Stealth CDLSE is multi-mission underwater life support rebreathers that provide a common platform to meet a range of operational roles throughout the water column.
Operational capability includes:
Very Shallow Water operations (VSW)
Deep Mine Countermeasure Explosive Ordnance; disposal to a depth of 100msw using Heliox/Trimix
Mine Countermeasures Explosive Ordnance; disposal to a depth of 40msw using an air diluent
Special Operations Forces (SOF)
Stealth CDLSE can be tailored to suit specific mission requirements via the use of the following accessories:
Simple harness
Buoyancy compensation device
Bite mouthpiece and half mask
Full face Dual Mode Mask (DMM)
Dual mode bite mouthpiece assembly
Open circuit bail-out options
External Breathing System (XBS) bailout option
Surface supply bailout options
Cylinder options; 15 years or non-lifed
Transport case
Diver tool and test kit
Maintenance tool and test kit
Spares package

As a result of the sustained engagement with militaries worldwide, JFD has identified the most effective and sustainable in-service support model which has evolved over many years. This service is managed and delivered by a dedicated defence Integrated Logistics Support (ILS) department, comprised of subject matter experts, and can be fully adapted to individual requirements.
The ILS department has project managers, technical authors, training officers, commodities management and engineering support. To meet the additional challenges of supporting more complex equipment types, JFD has embedded first line maintenance facilities within defence establishments, with the primary objective of providing immediate technical support to the equipment.
JFD offers through life support for all equipment up to, and including, full safety case management and associated activities. JFD is currently under contract with a selection of navies with a full MCM ILS capability by offering exceptionally high rates of equipment availability of purchased kit; 24 hours a day, 365 days of the year.
| | | |
| --- | --- | --- |
| Type  | Document | View |
| Flyer | Stealth CDLSE | |