Release date: 19 March 2018
JFD Shortlisted as finalist at HSBC Scottish Export Awards 2018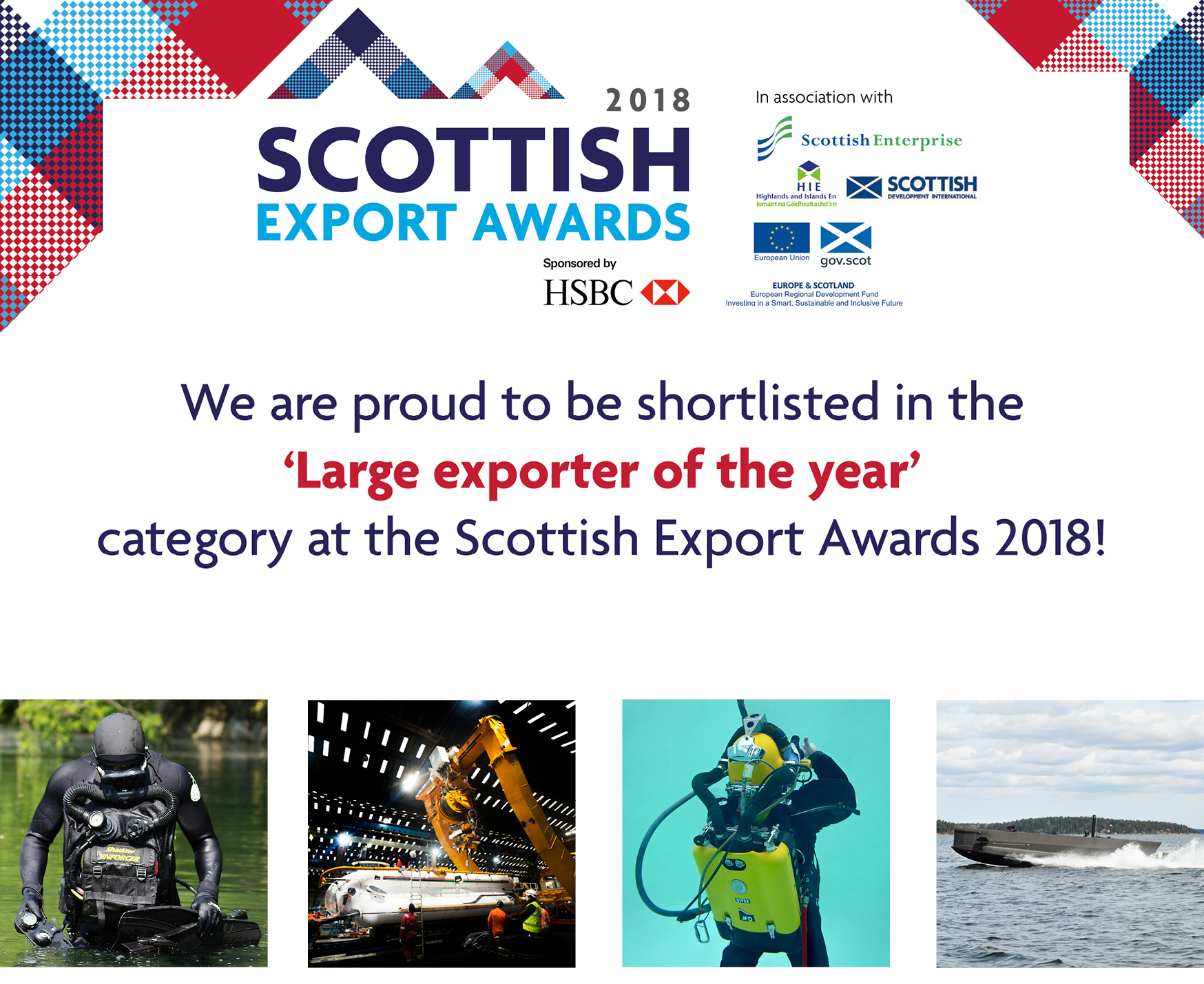 JFD, the world leading underwater capability provider serving the commercial and defence markets and part of James Fisher and Sons plc, is delighted to announce that they have been shortlisted for the second year running within the Large Exporter of the Year category for the HSBC Scottish Export Awards.
The Large Exporter category recognises outstanding achievements from companies with a turnover greater than £15m. Growth, market penetration and the application of innovative marketing strategies are all factors which will contribute in picking the winner.
JFD exports hundreds, if not thousands, of products and services globally every year.  2017 marked an incredible year for the company as they progressed with the Indian Navy Submarine Rescue contract worth £193m and the 500m saturation diving system contract for Shanghai Salvage. The company also launched its new bailout rebreather, COBRA, which marks a step change in diver safety for the commercial industry. The system was designed and manufactured in the UK and is now being exported to operators globally.
JFD is the union of three major UK companies who each have over 30 year's pedigree within the subsea safety industry. The company is headquartered in the UK where it has developed a 'centre of excellence' renowned for its specialist expertise within its field. From here, the company is able to support the development and delivery of the most specialised and capable products and services in the world.
By developing in-country capability through global bases, JFD is able to support the operation, maintenance and servicing demands of its global customers as well as satisfying the emergency requirements of its submarine rescue contracts.
Through the acquisition of Singapore based saturation diving system manufacturer, LEXMAR (August 2016) and Australian based Cowan Manufacturing (February 2018), JFD has established overseas manufacturing capability and in-country support which strengthens its position within the Eastern Hemisphere. JFD also recently announced a joint venture in China with WuHu Diving Equipment Factory which is dedicated to the manufacture of advanced diving systems for the China market.  This joint venture, known as Wuhu Divex Diving Systems Limited, secured its first contract last year for a multi-million dollar contract for Shanghai Salvage for the design and build of a mobile, 12man, 300m saturation diving system.
JFD hopes to continue developing its global capabilities, which supported by its UK heritage and expertise, ensure to offer clients around the world with the most comprehensive and capable products and services.
JFD wishes all the finalists the best of luck at the ceremony on the 22 March 2018.