Release date: 31 August 2022
JFD Australia attends 2022 Indian Ocean Defence & Security Conference
JFD Australia, the safe, trusted and reliable provider of Australia's world-class submarine rescue system, joined other defence industry leaders at the 2022 Indian Ocean Defence & Security Conference in Perth, Western Australia.
The theme of the biennial conference, hosted by the Western Australian Government, "Beyond Transits - the emerging security relevance of the Indian Ocean", brought together more than 500 defence and security experts from around the world for high-level discussions on the strategic environment, latest technologies, innovations and sovereign defence capabilities.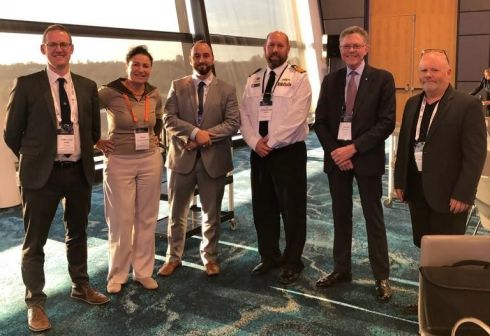 L-R: Jonathan Ware, Business Operations Manager, JFD; Vesna Moretti, Director Submarine Escape and Rescue Systems (Department of Defence); Matthew Nelson, Project Acquisitions Manager Submarine Abandonment Escape and Rescue (Department of Defence); Cdr. Chris Unwin, Submarine Escape and Rescue Manager, RAN; Dr. Allan du Toit AM, Chair, JFD Australia and Doug Rutherford, PSET Water Worker, JFD.
Held across two days and with 50 key speakers and presentations, the conference highlighted Western Australia's unique strategic importance in the region and the many ways in which it can help shape critical decisions on Australia's defence and national security.
Importantly, for the past 15 years, JFD Australia, has and continues to maintain the nation's fully air-transportable submarine rescue system just south of Perth where it is on stand-by at all times and ready to respond to a disabled submarine and its crew anywhere in the world.