Release date: 19 December 2018
Merry Christmas!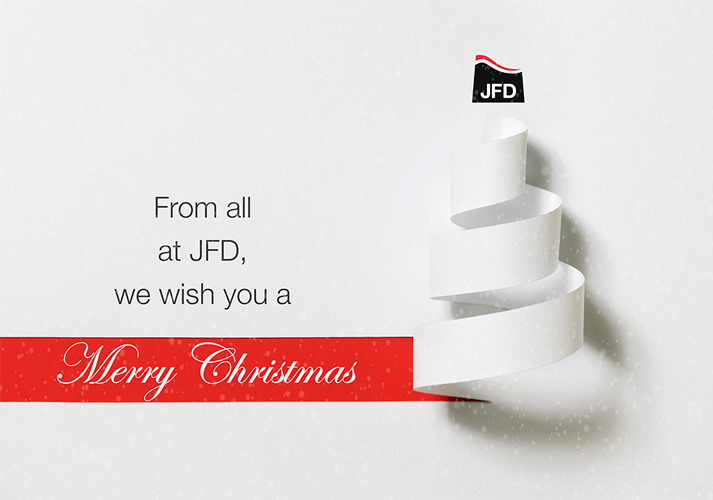 From all of us at JFD, may we take this opportunity to wish you a very merry Christmas and a happy New Year!
We'd like to advise you of our Christmas closure times which will be in operation throughout the festive period at our sites.
JFD Westhill, Aberdeen, UK 
21st December 2018: 1230 office is closed 
24th December 2018 - 2nd January 2019: Office is closed
3rd January 2019: Normal business
Despite being closed for the period above, we recognise the importance of providing our clients with a continued service and that the industry in which we work does not stop for the holidays. Therefore as with previous years JFD Westhill will have some staff working in the sales and materials department during the shutdown period and in addition the below out of hours on call numbers will be available for any other urgent requirements that you may have.
These contact numbers are:
Graeme Clark (Sales): +44(0)7770 553198
Graeme Johnston (Sales): +44(0)7825 892931
Other JFD office closures include:
JFD Inchinnan, Glasgow, UK 
21st December 2018: 1230 office is closed 
24th December 2018 - 2nd January 2019: Office is closed
3rd January 2019: Normal business
JFD National Hyperbaric Centre, Aberdeen, UK 
21st December 2018: 1230 office is closed 
24th December 2018 - 2nd January 2019: Office is closed
3rd January 2019: Normal business
JFD Australia
21st December 2018: 1230 office is closed 
24th December 2018 - 1st January 2019: Office is closed
2nd January 2019: Normal business
JFD Singapore
24th December 2018: 1500 office is closed
25th December 2018: Office is closed
31st December 2018: 1500 office is closed
1st January 2019: Office is closed
2nd January 2019: Normal business
JFD Sweden
24th December 2018 - 4th January 2019: Office is closed 
7th January 2019: Normal business