The Bauer Mini-Verticus III is a sound-insulated compressor ideal where noise is a key concern, and for customers who need reliability and durability combined with low running costs.
The Mini-Verticus III unit combines leading-edge compressor technology with high quality German engineering. The sound-proofed Mini-Verticus III is the ideal partner for diving centres and diving shops, who count on reliable and long-life use coupled with low operating expenses.
Rapid spare parts supply and service guarantee a successful diving season - globally.  The P41 purification system provides the purest breathing air quality accredited to DIN EN 12021.
Bauer Mini-Verticus III compressor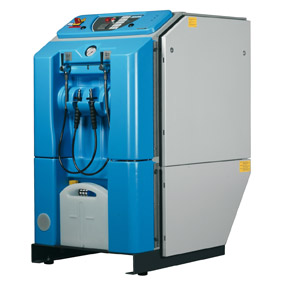 | | |
| --- | --- |
| Optional features | Bauer Mini-Verticus III compressor |
| P61 filter system | Optional with higher capacity for longer filter life |
| Charge connection | For external filling panel and storage bank |
| External filing panel | For high charge capacity requirement |
| Storage battery | For a large volume of spare air |
| Air-kool | Refrigeration dryer for increased life span of the purification cartridge |
| Securus | Filter monitoring guarantees ultra-pure air conforming to DIN EN 12021 |
1 Available with switch over device 330 / 225 bar or 225 bar / 330 bar alternatively
2 Cylinder filling from 0 to 200 bar
3 Filling rate for 1l cylinder capacity from 0 to 200 bar
 

 
 
 

Max. 330 bar1

Model

MV 100-4-3

MV 120-4-3

MV 120-5,5-3

Bar
225
225
225
FAD l/min2
150
200
250
RPM Min-1
1340
1270
1470
Filling Rate Min3

1,3

1,0

0,8

Drive kW

4,0

4,0

5,5

Drive PS

5,5

5,5

8,0

Filter system TRIPLEX®

P41

P41

P41

Dimensions (L x W x H)

102 x 74 x 130

102 x 74 x 130

102 x 74 x 130

Weight (app. kg)

68

68

68

Order code

BAMV150E01

BAMV200E01

BAMV250E01
| | |
| --- | --- |
| Item | Order Code |
| Bauer Mini-Verticus III compressor MV 100-4-3 | BAMV150E01 |
| Bauer Mini-Verticus III compressor MV 120-4-3 | BAMV200E01 |
| Bauer Mini-Verticus III compressor MV 120-5.5-3 | BAMV250E01 |
| | | |
| --- | --- | --- |
| Document | Document Type | Download |
| Bauer Mini-Verticus III compressor | Datasheet | |