The Bauer Mariner 200 is a versatile and robust mobile compressor unit in the PROFI-LINE II series. 
With FAD of 200 l/min and a corrosion-resistant crash frame, this powerful and versatile mobile compressor has a range of system accessories that can be easily attached.
The first stage and the high-pressure final stage of the Mariner 200 feature piston rings made from a new high-tech plastic which are virtually wear-free.
Bauer Mariner 200 Electric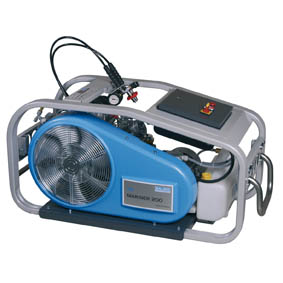 1 Only in combination with filter system P41, not on units with combustion engine
| | |
| --- | --- |
| Scope of supply | Mariner 200 |
| B-TIMER | Optional |
| Filling devices | 2 |
| Trolley | Optional |
| Handle | Standard scope of supply |
| Crash frame | Standard scope of supply |
| Comp. control/automatic condensate drain | Optional |
| Filter system TRIPLEX® P21 | Standard scope of supply |
| Filter system TRIPLEX® P31 | Optional |
| Filter system P41 | Optional |
| SECURUS filter monitoring1 | Optional |
| Telescopic intake tube | Optional |
* only available together with compressor control
** in 3-phase version only available together with automatic condensate drain
*** only available together with filter system P41 and electrical control
**** standard scope of supply with intake hose, only on units with combustion engine
Accessories from A To Z

Automatic condensate drain*

For efficient and safe drainage

B-TIMER

Allows the comfortable monitoring of filter exchange and maintenance intervals

Compressor control**

For auto switch-off when final pressure is reached or oil pressure drops down

Crush frame

Protects the unit and is required for mounting accessories

P41 filter system

Higher filter capacity for units with continuous operation

Securus***

Supervision of breathing air quality and maximum exploitation of the cartridge capacity

Telescopic intake tube****

For air intake of units with combustion engine

Trolley

For easy transportation of the unit
1 Available with switch over device 330 / 225 bar or 225 bar / 330 bar alternatively
2 Cylinder filling from 0 to 200 bar
3 Filling rate for 1l cylinder capacity from 0 to 200 bar
 

 
 
 

Max. 330 bar1

Bar
225
300
225 / 330
FAD l/min2
200
200
200
RPM Min-1
1250
1250
1250
Filling Rate Min3

1,0

1,0

1,0

Drive kW

5,9

5,9

5,9

Drive PS

8,0

8,0

8,0

Filter system TRIPLEX®

P21

P21

P21

Dimensions (L x W x H)

125 x 59 x 63

125 x 59 x 63

125 x 59 x 63

Weight (app. kg)

115

115

115

Order code

BAM200B01

BAM200B02

BAM200B03
| | |
| --- | --- |
| Item | Order Code |
| Bauer Mariner 200 compressor petrol P21 225 bar | BAM200B01 |
| Bauer Mariner 200 compressor 3 Phase P21 225 bar | BAM200E01 |
| Bauer Mariner 200 compressor petrol P21 225 / 330 bar | BAM200B03 |
| Bauer Mariner 200 compressor 3 phase P21 330 bar | BAM200E02 |
| Bauer Mariner 200 compressor petrol P21 330 bar | BAM200B02 |
| Bauer Mariner 200 compressor 3 phase P21 225 / 330 bar | BAM200E03 |
| | | |
| --- | --- | --- |
| Document | Document Type | Download |
| Bauer Mariner 200 compressor | Datasheet | |