Divex portable O2 analyser

The Divex portable O2 analyser provides a fast and accurate response to changing oxygen levels.
Designed to withstand harsh environments, the portable oxygen analyser is ideal for on-line O2 monitoring, or for verifying O2 levels from gas cylinders, gas distribution panels, diving chambers and even compost heaps. It is both water resistant to IP65/NEMA4 and drop resistant.
The O2 sensor is mounted internally for protection and to eliminate inaccuracies associated with sensor handling. Because all our oxygen sensors are fully temperature compensated you can be sure of a highly accurate reading at concentrations up to 100% O2.
Divex portable O2 analyser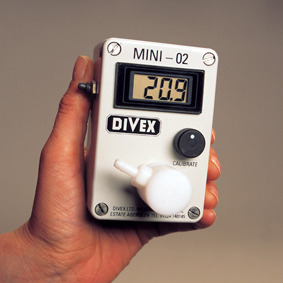 General

Range

0.1 – 100% in O2

Sensor response

 

Accuracy

+/- 1% of reading over range
0-50% when calibrated on air in accordance with the manual
+/-2% of reading over range 0-100% when calibrated on certified pure oxygen in accordance with the manual

Power

9V alkaline (PP3)

Operating temperature

-5oC to 50oC

Dimensions

Length

98 mm

Depth

36 mm

Width

64 mm

Weight

200g

Sensor

Warranty

3 years (graded)

Response

905 in less than 15 seconds
Gas companies - ensure your O2 cylinder mix is correct
Medical - ensures oxygen levels through gas distribution panels are correct
Diving - ensures correct oxygen mix for diving calculations
Compost - unit available with 1m probe and filter ensuring high quality compost
| | |
| --- | --- |
| Item | Order Code |
| Portable O2 analyser c/w sensor | SE3013C |
| Replacement sensor | SE24881 |
| | | |
| --- | --- | --- |
| Type | Document | Download |
| Datasheet | Divex portable O2 analyser | |