With triple glued and stitched seams, the Divex Neoprene drysuit is extremely hard wearing and comfortable for the diver. 
This low magnetic drysuit is manufactured from 7mm double lined neoprene. Heavy duty knee pads offer comfort when kneeling and increase the longevity of the suit.
Fitted with a low magnetic shoulder zip, inlet valve, hose and exhaust valves, this low magnetic drysuit is suitable for use in mine countermeasures (MCM) and explosive ordnance disposal (EOD) operations where influence ordnance is suspected.
Low magnetic drysuit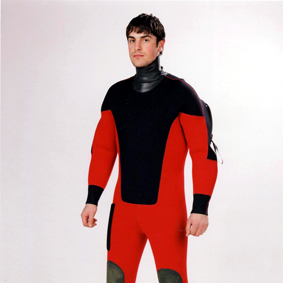 Note: The size chart refers to body measurement, should medium or heavy weight undersuits be worn, it is recommended to order the next size up.
Size
Height
Chest
Waist
Hips
Crotch to ground
Inside arm
Small

5'5" - 5'7"
1651 - 1702mm

38"
965mm

32"
813mm
35"
889mm
29.5"
749mm
18"
457mm
Medium
5'8" - 5'10"
1727 - 1778mm
40"
1016mm
34"
864mm
39"
991mm
30.5"
775mm
20"
508mm
Medium / Large

5'9" - 5'11"
1753 - 1803mm

42"
1067mm
35"
889mm
41"
1041mm
31.5"
800mm
21"
533mm
Large
5'10" - 6'0"
1778 - 1829mm
44"
1118mm
36"
914mm
42"
1067mm
32"
826mm
22"
559mm
Extra Large
6'0" - 6'2"
1829 - 1880mm
46"
1168mm
39"
991mm
44"
1118mm
34.5"
851mm
23"
584mm
XX Large

6'2" - 6'4"
1880 - 1920mm

48" - 50"
1219 - 1270mm
42"
1067mm
46"
1168mm
36.5"
927mm
23"
584mm
| | |
| --- | --- |
| Item | Order code |
| Divex low magnetic drysuit (Rigsuit) - Small | DD120061 |
| Divex low magnetic drysuit (Rigsuit) - Small (with valves) | DD120081 |
| Divex low magnetic drysuit (Rigsuit) - Medium | DD120062 |
| Divex low magnetic drysuit (Rigsuit) - Medium (with valves) | DD120082 |
| Divex low magnetic drysuit (Rigsuit) - Medium / Large | DD120063 |
| Divex low magnetic drysuit (Rigsuit) - Medium / Large (with valves) | DD120083 |
| Divex low magnetic drysuit (Rigsuit) - Large | DD120064 |
| Divex low magnetic drysuit (Rigsuit) - Large (with valves) | DD120084 |
| Divex low magnetic drysuit (Rigsuit) - Extra Large | DD120065 |
| Divex low magnetic drysuit (Rigsuit) - Extra Large (with valves) | DD120085 |
| Divex low magnetic drysuit (Rigsuit) - XX Large | DD120066 |
| Divex low magnetic drysuit (Rigsuit) - XX Large (with valves) | DD120086 |
| | | |
| --- | --- | --- |
| Type | Document | Download |
| Datasheet | Low magnetic drysuit | |