Divex Rigsuit (neoprene drysuit)
Popular with commercial divers, the hard wearing Divex Rigsuit is tailored to provide a comfortable fit and freedom of movement. 
The Divex Rigsuit is extremely popular with commercial divers and suit integrity is exceptionally good. The 7mm neoprene provides warmth and, as all seams are triple glued and stitched inside and out, the suit is rugged and durable.
The suit also contains a heavy duty shoulder entry zip and has hood attachment and valves available as options.
Divex Rigsuit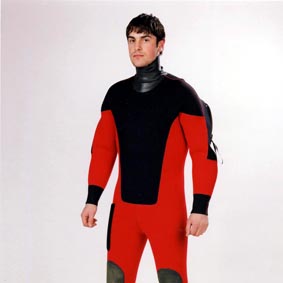 Note: The size chart refers to body measurement, should medium or heavy weight undersuits be worn, it is recommended to order the next size up.
| | | | | | | |
| --- | --- | --- | --- | --- | --- | --- |
| Size | Height | Chest | Waist | Hips | Crotch to ground | Inside arm |
| Small | 5'5" - 5'7" 1651mm - 1702mm | 38" 965mm | 32" 813mm | 35" 889mm | 29.5" 749mm | 18" 457mm |
| Medium | 5'8" - 5'10" 1727mm - 1778mm  |  40" 1016mm |  34" 864mm | 39" 99mm  | 30.5" 775mm  |  20" 508mm |
| Medium / large | 5'9" - 5'11" 1753mm - 1803mm | 42" 1067mm  |  35" 889mm | 41" 1041mm  |  31.5" 800mm | 21" 533mm  |
| Large | 5'10" - 6'0" 1778mm - 1829mm  |  44" 1118mm | 36" 914mm  | 42" 1067mm  | 32" 826mm  | 22" 559mm  |
| Extra large | 6'0" - 6'2" 1829mm - 1880mm  | 46" 1168mm  |  39" 991mm | 44" 1118mm  |  34.5" 851mm |  23" 584mm |
| XX large | 6'2" - 6'4" 1880mm - 1920mm | 48" - 50" 1219mm - 1270mm  | 42" 1067mm  | 46" 1168mm  |  36.5" 927mm |  23" 584mm |
Item
Order code
Divex Rigsuit - small (no valves)
DD120061
Divex Rigsuit -

small

 (c/w hood no VV's)
DD120061H
Divex Rigsuit -

small

 (c/w valves and hose)
DD120081
Divex Rigsuit -

small 

(c/w hood, VV's and hose)
DD120081H
Divex Rigsuit -

small 

(c/w inlet valve and hose)
DD120071
Divex Rigsuit - medium (no valves)
DD120062
Divex Rigsuit - medium (c/w hood no VV's)
DD120062H
Divex Rigsuit - medium (c/w inlet valve and hose)
DD120072
Divex Rigsuit - medium (c/w valves and hose)
DD120082
Divex Rigsuit - medium (c/w hood, VV's and hose)
DD120082H
Divex Rigsuit - medium / large (no valves)
DD120063
Divex Rigsuit - medium / large (c/w hood no VV's)
DD120063H
Divex Rigsuit - medium / large (c/w valve)
DD120063V
Divex Rigsuit - medium / large (c/w inlet valve and hose)
DD120073
Divex Rigsuit - medium / large (c/w valves and hose)
DD120083
Divex Rigsuit - medium / large (c/w hood, VV's and hose)
DD120083H
Divex Rigsuit - large (no valves)
DD120064
Divex Rigsuit - large (c/w hood no VV's)
DD120064H
Divex Rigsuit - large (c/w inlet valve and hose)
DD120074
Divex Rigsuit - large (c/w valves and hose)
DD120084
Divex Rigsuit - large (c/w hood, VV's and hose)
DD120084H
Divex Rigsuit - extra large (no valves)
DD120065
Divex Rigsuit - extra large (c/w hood no VV's)
DD120065H
Divex Rigsuit - extra large (c/w inlet valve and hose)
DD120075
Divex Rigsuit - extra large (c/w valves and hose)
DD120085
Divex Rigsuit - extra large (c/w hood, VV's and hose)
DD120085H
Divex Rigsuit - extra large (c/w hood, no VV's, Tall)
DD120065H/T
Divex Rigsuit - extra large (c/w relief zip, valves and hose)
DD120065RZ
Divex Rigsuit - XX large (no valves)
DD120066
Divex Rigsuit - XX large (c/w hood no VV's)
DD120066H
Divex Rigsuit - XX large (c/w inlet valve and hose)
DD120076
Divex Rigsuit - XX large (c/w valves and hose)
DD120086
Divex Rigsuit - XX large (c/w hood, VV's and hose)
DD120086H
Divex Rigsuit - XX large (c/w valve and hose)
DD120094
| | | |
| --- | --- | --- |
| Type | Document | Download |
| Datasheet | Divex Rigsuit | |