Demand Regulator Test Station (DRTS)
About this product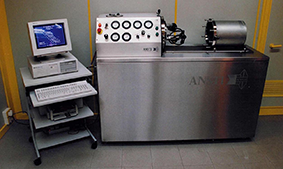 The Ansti Demand Regulator Test Station (DRTS) is a cost effective, fully calibrated, turnkey system specifically designed to measure the dynamic performance of new and serviced SCUBA demand regulators to 80msw (dry) at the maximum ventilation requirements of EN250:2014. It is suitable for use by a manufacturer for both the initial phase of product development and for routine testing of production demand regulators.
The system is designed to combine the effectiveness of a compact test pressure vessel with a fixed 2.5 litre displacement breathing machine test. The system is fully integrated into a control console and linked to the ANSTI computerised data acquisition system. The test station will allow you to quickly identify regulators passing / failing specified test criteria and to print Test Certificates. There is push button control of breathing rate (10, 15, 20, 25, 30 & 40 breaths per minute) providing ventilations in the range of 25 to 100 litres per minute. The test vessel is fitted with a quick release lid system and automatic Chamber Depth Control (CDC) to ensure accurate and safe testing.
The test station is very "user-friendly" providing a rapid method of test which is both simple and accurate. The software allows dual display of the standard Pressure-Volume Diagram with corresponding performance of the first stage output pressure.
| | |
| --- | --- |
| Item | Specification |
| General | The system has approval to European and American design codes. It is supplied as an integrated, fully calibrated turnkey package. A Technical Manual is supplied with comprehensive details of the equipment and contains full Operating Instructions. |
| Test vessel | The horizontal test vessel is constructed from Stainless Steel and rated to a maximum working pressure of 80 msw. Micro-switches and lights indicate when the chamber is fully closed and engaged so pressurisation can proceed. Fitted with automatic control the chamber depth can be pre-set (and adjusted during testing) to a maximum depth of 80 msw. |
| Breathing simulator | The Breathing Simulator is constructed from Hard Anodised Aluminium / Stainless Steel and rated to a maximum working pressure of 8 bar. Mounted on a machined, solid base plate it is designed and built for maximum robustness, reliability, and longevity. It has a pre-set tidal volume of 2.5 litres and push button control of breathing rate (10, 15, 20, 25, 30 & 40 breaths per minute) providing ventilations in the range of 25 to 100 litres per minute. |
| Computer and instrumentation | The Ansti data acquisition module is based on a PC linked to the USB port high speed data acquisition card. The system generates a range of real time displays of mouthpiece pressure, chamber depth, interstage pressure, and HP cylinder pressure whilst simultaneously generating real time displays of the Pressure-Volume diagram and Interstage-Volume. It also provides a data archiving and retrieval for visual display and optional printing of test results. |
| Control console | Test vessel and breathing simulator are fully integrated into a stainless steel fabricated test station that also incorporates the instrumentation, test sequence controls, pneumatic systems, and the automatic Chamber Depth Controller (CDC).   |
| | |
| --- | --- |
| Item | Specification |
| General | The system has approval to European and American design codes. It is supplied as an integrated, fully calibrated turnkey package. A Technical Manual is supplied with comprehensive details of the equipment and contains full Operating Instructions. |
| Test vessel | The horizontal test vessel is constructed from Stainless Steel and rated to a maximum working pressure of 80 msw. Micro-switches and lights indicate when the chamber is fully closed and engaged so pressurisation can proceed. Fitted with automatic control the chamber depth can be pre-set (and adjusted during testing) to a maximum depth of 80 msw. |
| Breathing simulator | The Breathing Simulator is constructed from Hard Anodised Aluminium / Stainless Steel and rated to a maximum working pressure of 8 bar. Mounted on a machined, solid base plate it is designed and built for maximum robustness, reliability, and longevity. It has a pre-set tidal volume of 2.5 litres and push button control of breathing rate (10, 15, 20, 25, 30 & 40 breaths per minute) providing ventilations in the range of 25 to 100 litres per minute. |
| Computer and instrumentation | The Ansti data acquisition module is based on a PC linked to the USB port high speed data acquisition card. The system generates a range of real time displays of mouthpiece pressure, chamber depth, interstage pressure, and HP cylinder pressure whilst simultaneously generating real time displays of the Pressure-Volume diagram and Interstage-Volume. It also provides a data archiving and retrieval for visual display and optional printing of test results. |
| Control console | Test vessel and breathing simulator are fully integrated into a stainless steel fabricated test station that also incorporates the instrumentation, test sequence controls, pneumatic systems, and the automatic Chamber Depth Controller (CDC).   |