Release date: 14 December 2016
JFD expands hyperbaric rescue offering with the addition of Portable HRF
JFD, the world-leading subsea operations and manufacturing company and part of James Fisher and Sons plc, has recently accepted the delivery of a portable 18-man hyperbaric rescue facility (HRF) which will offer offshore operators an encompassing solution for hyperbaric reception across the whole of the UK.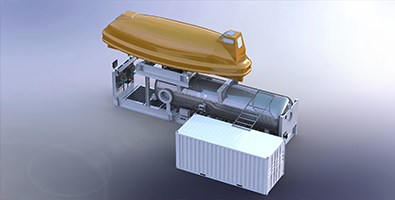 JFD's National Hyperbaric Centre (NHC) has been at the forefront of Hyperbaric Rescue since its establishment in 1987. The centre houses the only land-based saturation diving complex in the UK which has played historic and important role as a hyperbaric reception facility for many diving contractors operating in the North Sea. The addition of the portable HRF means JFD can extend this support across all UK waters, becoming a single source supplier for customers looking for HRF capability to satisfy their hyperbaric rescue requirements.
This service not only provides a cost effective solution by capitalising on asset sharing benefits, but also aims to increase safety as customers can be assured the systems are audited, serviced and maintained on a regular basis.
Following an evacuation, divers have up to 72 hours life support on board, therefore a fast recovery and an efficient HRF process is imperative to save the diver's lives. JFD's team have developed specialist skills through years of proven service and have first-hand experience through involvement with various live trials performed at National Hyperbaric Centre making them the ideal choice when looking for support in this area.
The portable system is now available for hire and can be transported and stored on standby at a nominated port of recovery, allowing clients to minimise SPHL/HRC travel distance and time as part of their hyperbaric rescue plan.
The 18-man HRF was built by JFD at their Australian facility to support a diving contract based in Western Australia. JFD systems represent state-of–the-art technologies and innovation and are built by experienced personnel with safety, practicality and comfort in mind. The HRF has been designed to facilitate easy transportation and relocation from country to country, rapidly providing decompression and medical support. The HRF is designed to mate to a Self-Propelled Hyperbaric Lifeboat (SPHL) or to a Hyperbaric Rescue Chamber (HRC) to allow the divers to transfer under pressure to the HRF chamber and continue decompressing away from the dangers that have ensued upon the vessel.  The HRF is built to Lloyd's Register Rules for the Construction & Classification of Submersibles and Diving Systems and is fully IMCA compliant.
Three Life Support Packages (LSPs) are now also under management within JFD's fast developing asset pool.
JFD's mission is to maintain its position as a market leader within this specialised area by providing a turnkey solution to customers across the whole of the UK which it hopes will improve subsea safety standards.