Release date: 16 September 2022
JFD Cowan Chambers named in honour of former US Navy Master Diver and shark attack survivor, Rick Bettua
JFD Cowan, based in Warners Bay, near Newcastle in New South Wales, Australia, was delighted to name one of its Transportable Recompression Chambers System (TRCS) after retired US Navy Master Diver, Rick Bettua and his wife, Angela.
 A master at enduring extreme conditions underwater, Rick served 32 years in the US Navy, where his sharp survival skills more than once saved his life. Rick has previous experience with the services and support JFD Cowan provides to the US Navy and witnessed first-hand how its products, such as the TRCS, work in the field to save human life.
Rick was invited for a tour of the JFD Cowan facility to gain an insight into the manufacturing process and see his namesake TRCS in person. The TRCS comprises of two components, the Transportable Recompression Chamber (TRC) and the Transfer Lock (TL). The system is capable of being transported to remote locations, where diving operations or emergency rescue activities are to be carried out.
The TRC has passed the most rigorous laboratory and field testing of the US Navy and is supplied worldwide with over 100 systems distributed to date.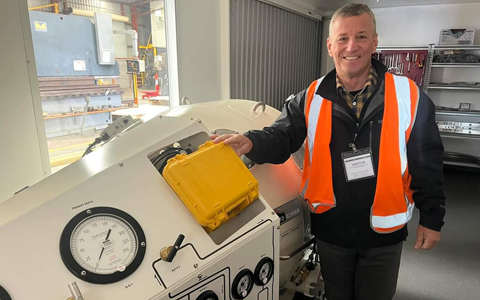 Rick said:

"Visiting Cowan and getting to meet the people behind the scenes was an eye opener. The world uses machinery and equipment every day but very little thought goes into the people behind-the-scenes. Being someone that has used your TRCS, it was very fulfilling to meet you all and see where it was born and built.

I learned a little about how a TRCS is manufactured and the pride that each and every one of you put towards delivering the very best equipment possible. The military is not like how Hollywood portrays us, it is a very demanding job and our lives depend on quality equipment that works when we need it to." 
Rick's incredible career included a stint as the US Navy's Command Master Chief of Salvage Diving in 2004, managing 250 personnel operating worldwide, and Command Master Chief Petty Officer and Master Diver in 2008. He retired in 2011 after three years as an Advisor and moved to Queensland, Australia - although it was perhaps not the peaceful retirement he had hoped for.
In October 2020, Rick was attacked by a 12-foot bull shark while spearfishing and suffered serious injuries from knee to hip. By the time he reached the shore 90 minutes later, he was no longer breathing and had no pulse. Miraculously, emergency medical workers managed to resuscitate him, and he has since gone on to author a novel about his life, which includes 15 other near-death stories!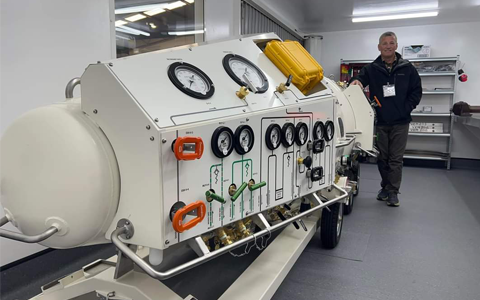 Rick said:
"It was an honour to be nominated and have this TRCS dedicated to my wife, Angela, and myself. You pour your heart and soul into your career, and you do your best every day for three decades to set a perfect example. You retire with the satisfaction of knowing in your heart you did the right thing. Having such an important piece of life-saving equipment named after me resonates that maybe, just maybe, I did a good job during my career."

 

Nathan Huckett, General Manager, JFD Cowan said:
"Rick was a great presenter in explaining his life experiences and was inspirational". 
Thanks to Rick for taking the time to visit the JFD Cowan facility and reminding all of us at JFD why we do what we do every day – to save the lives of those working underwater.