Release date: 04 December 2017
JFD completes build of first two SPHLs as part of new safety-advanced range
JFD, the world-leading underwater capability provider serving the commercial and defence markets and part of James Fisher and Sons plc, is celebrating the delivery of the first two lifeboats which form part of JFD's new safety-advanced range of self-propelled hyperbaric lifeboats (SPHLs).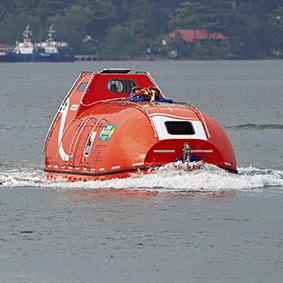 In February 2016, JFD won a multi-million pound contract to design and manufacture six SPHLs; four 18-man and two 24-man, as part of the saturation diving systems on board a new fleet of diving support vessels (DSVs). Final testing on the first two 18-man SPHLs has now been completed and they are ready for installation and commissioning following the launching ceremony held on 12 September 2017.
These lifeboats mark the first to be completed as part of a new partnership between JFD and Vanguard to develop a range of next generation SPHLs and integrated davit systems which lead the way in terms of operational safety standards for saturation divers. The partnership combines JFD's globally trusted chamber manufacture and design expertise with highly respected Singapore-based lifeboat manufacturer, Vanguard.
JFD is now able to offer saturation system customers around the world a full range of SPHLs designed and manufactured entirely in-house, reducing associated integration risks and cost implications. By fitting the chambers with their Divex-brand product range, JFD not only assures clients that they are receiving proven and world-renowned technology, but can offer an un-paralleled servicing programme to maintain the equipment across its lifespan.  Standard vessels are engineered to 12, 18 and 24-man configurations with built-in self-righting capability and can be rated down to 600msw based on customer specification however bespoke designs are also available. Ergonomically designed internal working areas and an environmental control system enhance safety, practicality and comfort for the marine and life support crew. JFD's SPHLs can be supplied compliant with NORSOK, ABS, DNV, IMCA and Lloyd's register depending on requirement.
JFD was able to implement a global approach to the project by combining expertise from both its UK and Singapore facilities. This ensured engineering expertise, assembly efficiency and manufacturing costs could all be strategically aligned providing customers with a product that's focused on both value and performance.   
Ben Sharples, JFD business execution director said:
"The delivery of these first two SPHLs is a huge milestone for JFD. Our highly experienced engineering and manufacturing teams have put in an incredible amount of hard work and dedication which has resulted in the production and delivery of two of the most safety-advanced SPHLs on the market.

"JFD is now in a very strong position, able to offer a range of lifeboats to suit a variety of specifications. We are looking forward to being able to offer our clients an even more encompassing solution for their saturation system requirements."