Release date: 16 September 2016
JFD begins restructuring process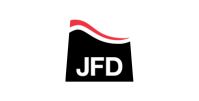 JFD has announced today its decision to undergo a restructuring process which includes an internal reorganisation with the objective of optimising processes and workforce effectiveness with unavoidable impact on a number of functions.

The announcement comes following our engagement with Brooks International consulting firm aimed at improving efficiencies during the Oil and Gas downturn and raising JFD's competitive position following an intense mergers and acquisitions phase.
Giovanni Corbetta, Managing Director, stated: "JFD has enjoyed an intense period of growth and success that has inevitably leaded to the need to consolidate and rationalise. Furthermore, the market has yet to stabilise and it is clear that our customer requirements are significantly different to what they were 12 to 18 months ago. The streamlining of our activities and the achievement of an enhanced efficiency in our delivery teams, allows us to satisfy our customers by utilising a reduced amount of resources. It is regrettable that we have to lose colleagues from our business however this is a painful step required to maintain our business healthy."
"We hope the restructure we are undertaking within JFD will give us the agility needed to react effectively and continue to succeed in a rapidly changing market."

"JFD intends to maintain its position in the marketplace and continue to build on current successes. In recent months, we have acquired LEXMAR and secured the largest revenue contract within James Fisher's history to support submarine rescue capability for the Indian Navy."

Giovanni continued; "Since the bringing together of JF Defence and Divex, followed by the acquisition of the National Hyperbaric Centre and Defence Consulting Europe, we've implemented a number of synergies that improve our efficiencies and delivery to the customer. We have established a strong brand and reputation which is recognised worldwide, however streamlining our business model will enable us to strengthen our long term competitive position within the current marketplace in order to serve our customers better".
JFD is dedicated to its clients and aims to maintain a direct and open relationship. If you have any concerns regarding the restructure please do not hesitate to contact us.