About this product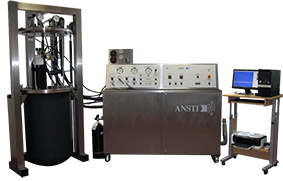 The Ansti Life Support Equipment Test Facility (LSFT RB100) is a fully integrated, laboratory system specifically designed to test and measure the dynamic breathing performance of a wide range of life support equipment.
The tests are conducted accurately and efficiently at the surface and / or immersed in water to a maximum simulated depth of 100 msw.
The test vessel (nominal internal dimensions diameter 1000 x 1300mm deep) is sufficient to accommodate twin cylinder SCUBA diving equipment, diving helmets / masks with bailout cylinder and rebreathers (maximum dimensions 850 x 500mm) in both swim and head upright positions. Additionally, the system will also allow the breathing performance of a wide range of surface equipment e.g. filter masks and fire fighting BA etc to be measured.